Financial Management is a Professional Diploma Certification by the European International University- Paris.
Finance skills are in high demand, and the sector is expected to continue growing. With a great demand for latest and updated continuous professional development of finance executives, this certification has been highly accoladed by corporates as it helps certifying the candidature for financial analyst roles and adds to the qualification & upgrades to career.
This course will ensure that you prove to be an invaluable asset to your organization, possessing important skills especially in the areas of Financial Planning, Accounting Records, Financial Monitoring, and Internal Control System. It will also help you to manage multiple financial management responsibilities more effectively and efficiently with International Certification.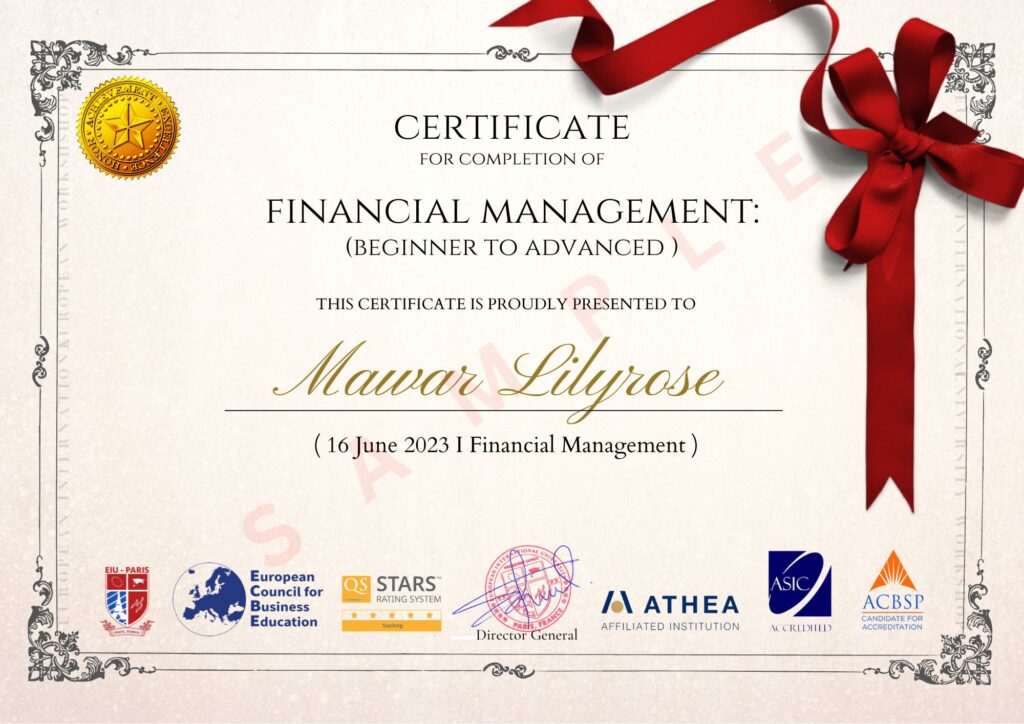 LESSONS COVERED:
The Field of Finance
Review of Accounting
Financial Statements and their Importance
Balance Sheet
Income Statement
Sources and Uses Statement
Statement of Cash Flows
Evaluating Financial Performance (ROE)
Problems with ROE
Ratio Analysis
Pro-Forma Statements
Developing Pro-Forma Statements I
Developing Pro-Forma Statements II
Measuring Sustainable Growth
Managing Growth
Operating Leverage and Its Effect on Business Financials
Financial Leverage
Capital Markets, a Macro Perspective
Capital Markets, the Micro Perspective
Short-Term Financing
The Time Value of Money
Valuation of Bonds
Valuation of Stocks
The Cost of Capital
Long-Term Debt
Alternative Forms of Long-Term Financing
Common and Preferred Stock Financing
Dividend Policy
Mergers and Acquisitions
International Financial Management
To Register visit Pedagog.ac