There is no fee to create a course on Pedagog, and you can publish as many free and paid courses as you like. We believe in a sustainable partnership, where instructors are rewarded for creating amazing content and bringing students to the platform, and Pedagog is rewarded for being the host and driving new students to our instructors.
Pedagog provides the best revenue structure to the tutors in the industry by maximizing your reach to thousands of learners while you get to keep 80% of your sales revenues.
You don't want to stay behind, sign up now and get 80% of your course sales revenue.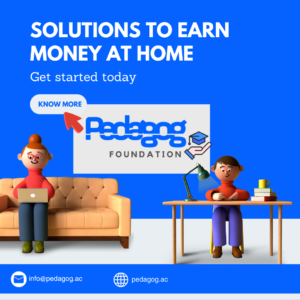 The Pedagog platform has now more than 220,000 users, 300+course, with 65 + instructors and more than a 100 + institutions utilising the platform for their education businesses.
Have a knack for training? If yes then what's stopping you?
𝗜𝗳 𝘆𝗼𝘂 𝗮𝗿𝗲 𝗮 𝘁𝗲𝗮𝗰𝗵𝗲𝗿, 𝗰𝗼𝗻𝘁𝗲𝗻𝘁 𝗰𝗿𝗲𝗮𝘁𝗼𝗿 𝗼𝗿 𝗮 𝗬𝗼𝘂𝗧𝘂𝗯𝗲𝗿 & 𝗵𝗮𝘃𝗲 𝗮 𝘀𝗸𝗶𝗹𝗹 𝗯𝗮𝘀𝗲𝗱 𝗰𝗼𝘂𝗿𝘀𝗲 𝘁𝗼 𝗼𝗳𝗳𝗲𝗿 𝘁𝗵𝗲𝗻 𝗼𝗽𝗲𝗻 𝗮𝗻 𝗶𝗻𝘀𝘁𝗿𝘂𝗰𝘁𝗼𝗿'𝘀 𝗮𝗰𝗰𝗼𝘂𝗻𝘁 𝗼𝗻 𝗣𝗲𝗱𝗮𝗴𝗼𝗴 𝗻𝗼𝘄 𝗮𝗻𝗱 𝗴𝗲𝘁 𝟯 𝗮𝗱𝘃𝗮𝗻𝘁𝗮𝗴𝗲𝘀-
➡️ Earn 80% of your sales revenue
➡️ Showcase your course on the Pedagog Marketplace for free
➡️ Reach out to 220k users on the Platform
➡️ Expand your sales
➡️ Get support
➡️ Earn from home opportunity
So, what are you waiting for?
Share you knowledge with us and become a course creator today!🚀
👉🏻https://pedagog.ac/teachers/welcome
#collaboration #coursecreators #earnonline #knowledge
From time to time Pedagog's creative & marketing team will showcase your courses to our community by promoting your course and doing multiple email campaigns. 
Sign up to an instructors account and start building  your course and sell to the world. For help please contact [email protected]