According to the Pedagog magazine survey, The Wharton School will hold the esteemed title of top business school for 2023. MIT Sloan School of Management came in third, with Harvard Business School in a solid second place. London Business School came in fourth in the 2023 rankings, ahead of Said Business School, which came in fifth. Insead in France came in sixth and Stanford Graduate School of Business (GSB) School held the seventh global position.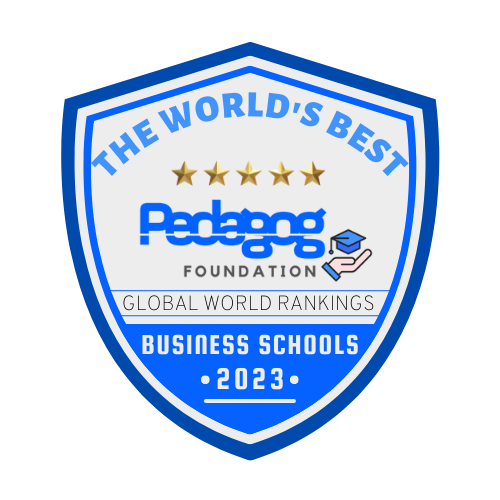 The Haas School of Business (Berkeley Haasand Yale School of Management (commonly known as Yale SOM) are in ninth, and tenth place overall among the top 10 business schools.
The University of Chicago Booth School of Business came in at No. 15, followed by IMD – International Institute of Management Development in Switzerland at No. 13, and Kellog School of Management in the US  at No. 12. In the meantime, the Pedagog magazine's list of the top business schools in the world for 2023 placed HEC-Paris at No. 21. IMD – International Institute for Management Development came in sixteenth, UCLA Anderson School of Management was ranked seventeenth, Tuck School of Business was ranked eighteenth, The top IIM- Admedabad – The Indian Institute of Management- Ahmedabad was placed Thirt First (31) in the Global ranking of Business Schools Internationally.
The ranking is based on a number of factors, including the achievement levels on individual students, survey on business experts, corporate recruiters, levels of jobs during industry placements, starting packages, industry acceptances and collaborations etc. Therefore, if you are considering improving your possibilities with a postgraduate business degree, we have the collated all for you; listed below are the top international business schools that can progress your career:
Results in detail and methodology: Between February 15, 2023, and March 30, 2023, The Pedagog magazine questioned 200,000 business executives, graduates, global business influencers, industry experts, business school academics, employers, and recruiters in 156 countries and territories. Eighty two percent of the interviews were conducted online, 10% over the phone, and 8% in person. Without relying on institutions' data submissions, all quantitative interviews were done in private.
We gathered data and statistics for our list from publically accessible sources, analysis, and survey. Institutional ratings were requested from participants on a scale of 1 ("marginal") to 100 ("outstanding") or "don't know." The Pedagog magazine, which is a blog by an International Ed- Tech platform based in the United Kingdom and the platform is used by more than 200,000 students for accessing higher learning and skilled based courses time to time. The magazine conducted the study on the 2023 Global Business Schools.
Five main quality and reputational factors form the basis of the rankings. The total Score (100%) is calculated by adding the following:
1) Academic standing
2) Eligibility for Admission
3) Rate of job placements
4) Employer comments and satisfaction
5) Past and famous Alumni and their influence
6) Yearly tuition and charges
The colleges listed above are the "best business schools in the world for 2023," according to Pedagog magazine, although this is by no means an exhaustive list, and there may be many more that provide top-notch programs. This ranking should not be seen as the deciding factor when selecting a business school; it is only one factor to take into account.
For the entire sample of 200,00 respondents, the margin of sampling error is plus or minus 1.2 percentage points. One should keep in mind that, as with all survey research, there may be additional sources of error that could have an impact on the findings, including as coverage, nonresponse, and measurement error.
Due to percentages being rounded and 'neither/nor' and 'don't know' responses being removed from the display, not all numbers sum up to 100%. Except where otherwise noted, 200,00 (global respondents) serve as the base for all global statistics. All responses are kept private to enable survey participants to express their opinions in a collegial, courteous, genuine, and objective environment. Contact [email protected] for further details.