Dear Instructors & Tutors, at Pedagog we acknowledge your accomplishments through your content in education & doing so we want to offer you our unique blockchain based tutoring platform – Pedagog & keeping into account your fame we want to offer you 80% of your course sales revenue throughout your journey with us.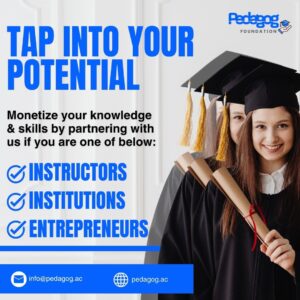 Work with us as partners
Focus on your competencies and let us do the hard work. Add your content, videos and courses and upload straight from your account. Our staff usually verifies the content and publishes live on the platform within a week and there you go, you are set for sales to thousands of registered students on Pedagog. Read more on our website
Prefer speaking, simply drop us an email on [email protected] to arrange an appointment to talk to our Business representative.